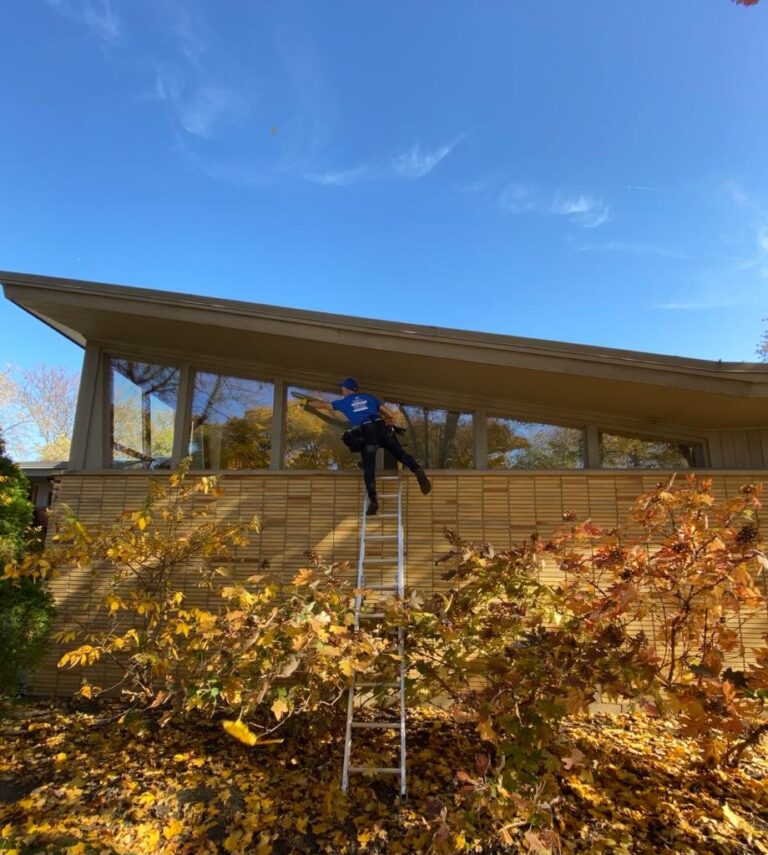 After Crystal Clear Window Washing, Inc. was founded in 1999 to help Chicago homeowners with their window washing and cleaning needs, it determined that there was also a large market for helping local homeowners with much more than just window washing. It was then that Crystal Clear added professional gutter cleaning to its broad range of services. You will discover that our customers trust Crystal Clear to do for their gutter cleaning what we do for their window washing. This is because Crystal Clear puts our customer's needs first and foremost before anything else. We endeavor to make sure that our customers receive the most professional and affordable gutter cleaning in the Chicagoland area. This is why cleaning gutters no longer has to be a problem. It is because Crystal Clear is the solution. We also pledge to perform our gutter cleaning service right the very first time, so you will never need to worry about future problems. Our highly-trained staff has years of experience dealing with a variety of gutter clogs and drainage problems. If you have any questions regarding your gutters, our staff is standing by 24/7 with the answers. Crystal Clear' gutter experts will get your gutters back to their original working condition, free from all unwanted debris and leaves. After one visit from us, you will never have to worry about your seasonal gutter cleaning again. When winter-proofing your home, this is an excellent time to give Crystal Clear a call.
Residential Gutter Cleaning
Gutter cleaning and gutter maintenance are a significant part of home ownership. Your gutters are the collection system, on the edge of your roof. They are designed to divert water that is running off your roof to downspouts. Without gutters, the water can run off your roof in curtains, like a waterfall. Unfortunately, your gutters also collect debris like leaves, twigs, and dirt. If too much debris collects in your gutters, there is nowhere for the water to go and gutter cleaning becomes a necessity. Gutter cleaning is not only an unpleasant chore, but it can also be a risky chore. For multiple story homes and businesses, cleaning gutters from a ladder often is a very dangerous task. Cleaning your home gutters can be an extremely dangerous job. There are a few safety considerations that every home owner must think about. Perhaps the most obvious, is ladder safety. There are literally thousands of ladder injuries every year according to the Consumer Product Safety Commission. There are even some deaths associated with homeowners not using their ladders correctly or choosing a damaged ladder for a particular purpose. Often times, this kind of job calls for scaffolding. Most homeowners don't have scaffolding, but Crystal Clear does! Our gutter cleaning service is a simple, affordable and safe way to ensure the appropriate functioning of your property's drainage system.
Commercial Gutter Cleaning
Crystal Clear can help! With us, gutter cleaning has never been any simpler. What once was considered a troublesome chore is now easily handled with one brief phone call. By calling Crystal Clear, your gutter problems are no more. Our gutter specialists will handle all of your drainage problems. We will take care of diagnosing the problem to solving it. Our gutter cleaning experts have the knowledge, skill, and experience needed to tackle any gutter problems you may have. With Crystal Clear's gutter cleaning, you not only save money, but time on future cleaning, as well. Call us today to schedule your next gutter cleaning. You won't be let down! We will make your gutter problems disappear!